Hunter, USAR Canine, Los Angeles County Fire Department
---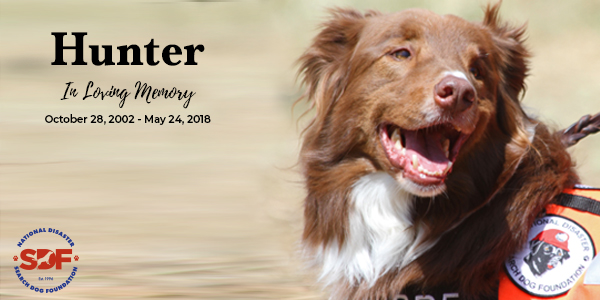 Quote:
The Los Angeles County Fire Department (LACoFD) extends a fond farewell to two of our retiring search and rescue canines. Ty, partner of Fire Captain Dennis Dimarzio, and Hunter, partner of Fire Captain Bill Monahan. Both officially retired on January 31, 2018.

Hunter is 15 years old and has worked alongside Captain Monahan for the past 14 years. He was deployed to Haiti, Japan, and to the Chatsworth and Commerce train derailments as well as other county incidents. Hunter made many news and television appearances, and took part in hundreds of demos. Hunter and Captain Monahan have traveled together as representatives of the National Search Dog Foundation as keynote speakers to discuss the importance of disaster search canines.

"We appreciate the support from the Department and the Search Dog Foundation since the beginning years and all the hard work the handlers after us have given to the betterment of the programs and its future — and most importantly. the victims," said Captain Monahan.

Ty is 11 years old and has been an active member of the team almost seven years. He has been on five deployments and he was certified twice. His very first deployment was a local rescue in East Los Angeles, when a house collapsed. Ty also assisted in several searches for hikers lost or missing in local mountain areas. Most recently, he was deployed to Montecito in response to the devastating mudslides. According to Captain Dimarzio, Ty is an eager canine, always ready to go when someone needs help.

The Department recognizes and appreciates Hunter and Ty for their excellent search and rescue achievements. Without a doubt, these canines have gone above and beyond in providing quality rescue service throughout their careers.

Thank you, Hunter and Ty!
Quote:
Los Angeles County Fire Captain Billy Monahan was joined by colleagues and family on Thursday, June 7, in mourning the recent loss of his search canine partner, Hunter, during a flag ceremony held at Fire Station 136 in Palmdale. After 14 years of dedicated service, Hunter retired in January and passed away after battling a long-term illness on Thursday, May 24, 2018.

As members of CATF-2/USA 1, Captain Monahan and Hunter responded to many international deployments. In 2010, they helped in search efforts after a devastating earthquake in Haiti. Hunter became the first canine to be awarded Firefighter of the Year for saving four lives while on that deployment. The pair were also deployed to local incidents, including the Chatsworth and Commerce train derailments.

Thank you, Hunter and Captain Monahan, for your dedicated and steady service as first responders and as ambassadors for the Los Angeles County Fire Department and the National Disaster Search Dog Foundation.
Quote:
Hunter, a longtime L.A. County Fire Department rescue dog who has helped find numerous people in disasters in California and abroad, was honored on Thursday with a hero's farewell.

Hours later, Hunter was put down. He was terminally ill with acute kidney failure and experiencing seizures and in a lot of pain, his family said.
Hunter gets some love from Capt. Bill Monahan and Monahan's wife Tammy on May 25, 2018. Hunter was put down a few hours later. (Credit: KTLA)

His partner of many years, fire Capt. Bill Monahan, choked up as he described Hunter's service as a live-find search dog.

"He made his mark," Monahan said. "He's 15 1/2. And he's lived the life of a rock star."

Hunter, a border collie, helped save four lives in the 2010 Haiti earthquake, Monahan said.

"We had never rescued a live human being going back to Oklahoma, 9/11," Monahan said. "So this was a milestone."

Later that same year, Hunter became the first nonhuman to be named firefighter of the year. The canine also helped out in the Japan earthquake in 2011. And before that, he worked the 2008 Chatsworth train derailment and other tragic events.
__________________
- OUR DISCLAIMER- The views and opinions posted on this website are solely those of the original authors, news source or registered members. These views and opinions do not represent those of Californiafirefighter.com (CAFF.com), Admin, their advertisers or any associated companies or vendors.
- OUR EMAIL- californiafirefighter@hotmail.com